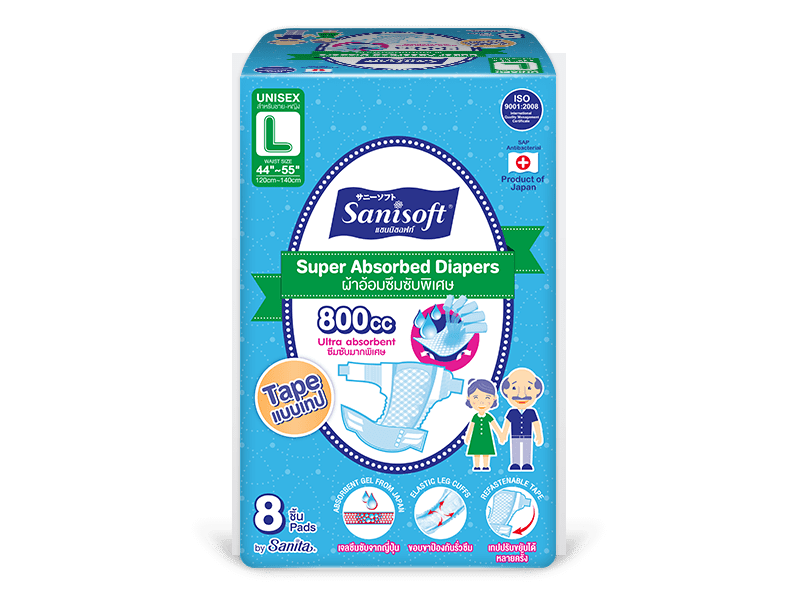 Waist Size
44"~55" (120cm~140cm)
Absorbent Gel from Japan
A system of mixture between soft fiber and absorbent gel from Japan provides 800cc rapid absorption. Fluid is absorbed and contained within the pad, preventing leakage and keeping it dry.
Elastic Leg Cuffs - Airthourgh Surface
A nonwoven material with soft and fine ventilation properties provides one way flow, thus keeping the skin dry and allowing air to flow comfort use.
Frontal Tape
The use with ease of the fastening tape enables for multi-fastening as long as the diaper is clean and dry.
Lying Position Usage Direction
1. Make the waist tape tab upward and lay it back, unfold the diaper and assist user to lie on the diaper.
2. Adjust the diaper to fit the hip of the user, then take up the front side of the diaper between their legs and put it on their belly.
3. Fasten the tape to the corresponding area.
Sitting Position Usage Direction
1. Place the diaper on the chair, lay fastener side against the back of the chair and the other side on the sitting area, folded.
2. User sits and takes up the front side of the diaper between their legs and adjust accordingly.
3. Make sure to adjust the diaper to reach the hip and belly area. Fasten the tabs.
Caution
Avoid contact between fastener and skin.

If usage results in irritation or discomfort, discontinue usage and consult your physician.

After opening, store diaper in dry condition.

Change diaper immediately upon soiling.

Dispose after usage.

Do not reuse.

For sanitary disposal, roll up the diaper and secure sides with fastener. Do not dispose the diaper in the toilet.

Keep plastic bag away from children to avoid danger of suffocation.