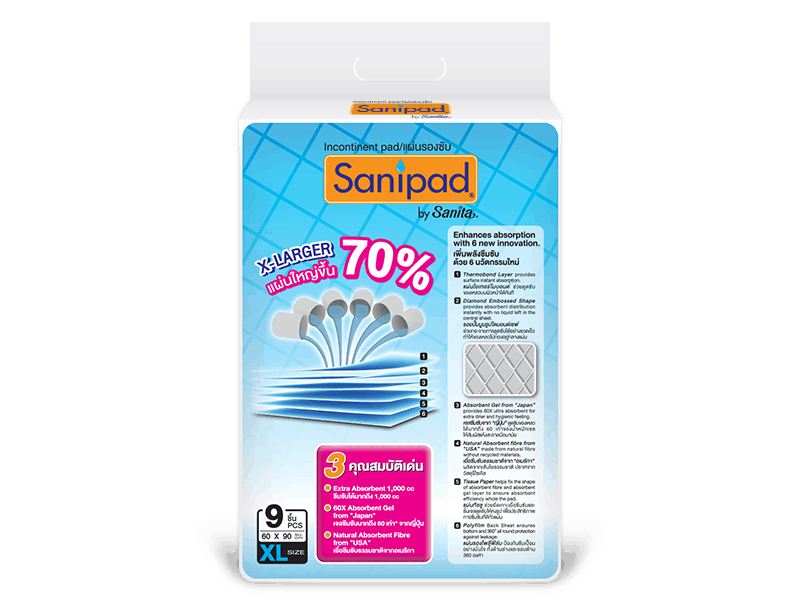 1. Thermobond Layer
provides surface instant absorption.
2. Diamond Embossed Shape
provides absorbent distribution instantly with no liquid left in the central sheet.
3. Absorbent Gel from "Japan"
provides 60X ultra absorbent for extra drier and hygienic feeling.
4. Natural Absorbent fibre from "USA"
made from natural fibre without recycled materials.
5. Tissue Paper
helps fix the shape of absorbent fibre and absorbent gel layer to ensure absorbent efficiency whole the pad.
6. Polyfilm Back Sheet
ensures bottom and 360๐ all round protectionagainst leakage.
วิธีใช้
ปูผ้าปูที่นอนใหม่ลงบนฟูกส่วนกลาง

เคลื่อนย้ายคนไข้ไปทางด้านข้างก่อน แล้วจึงพับผ้าปูที่นอนเก่าขึ้นมา

เคลื่อนย้ายคนไข้ไปทางด้านหนึ่งแล้ว จึงพับผ้าปูที่นอนเก่าขึ้น แล้วปูด้วยผ้าปูที่นอนใหม่

เคลื่อนย้ายคนไข้กลับมาบนผ้าปูที่นอนใหม่

ปูแผ่นรองซับสำหรับดูแลรักษาลงบนผ้าปูที่นอนใหม่
Cautions
To avoid risk of choking, do not allow babies and children to tear diaper or plastic bag. Choking may result from any objects that has been put into the mouth.

Away protect diaper from any source of flame. Diapers, like any article of clothing, will burn if exposed to flame.